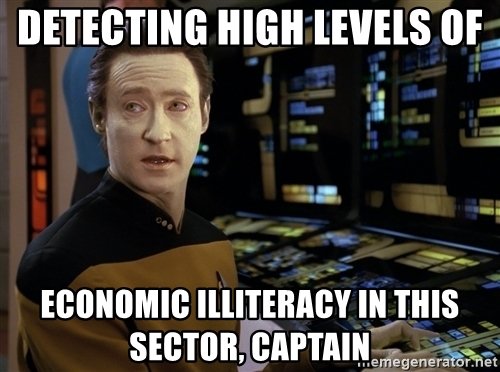 Brexit-ul a devenit o farsa economica fara precedent in istoria Regatului Unit. Un citat celebru de la Winston Churchill "Never was so much owed by so many to so few" se poate traduce : Din cauza la cativa au sa sufere multi sau tirania majoritatii.
Cand UK se afla in UE dorea si a obtinut optiunea de a nu fi obligata sa respecte cerintele UE precum moneda unica si cand nu mai este in UE – doreste sa optiunea sa fie inclusa in UE. You can't have your cake and eat it e un proverb foarte popular in Anglia. Inseamna ca daca iti mananci prajitura, ramai fara ea (prajitura). Anglia vrea sa consume prajitura si sa o aibe in acelasi timp .
Guvernul britanic repeta situatia din primul razboi mondial cand comandantii trimiteau soldatii britanici sa atace inamicul stiind ca au sa fie ucisi si ca nu au nicio sansa de succes.
Marea Britanie are o economie bazata pe servicii, practic City of London este bancherul lumii si este gaina care face oua de aur pentru economia britanica, un sector care are un surplus financiar extrem de important cu toate tarile din lume, inclusiv cu Uniunea Europeana.
Serviciile financiare britanice au avut un surplus comercial in valoare de 71 miliarde USD în 2013. PIB-ul Londrei este egal cu cel al Arabiei Saudite.
Londra reprezenta 22% in 2015 din PIB -ul Regatului Unit, un oras care reprezinta doar 12.5% din populatia britanica. Contributia financiara neta a Londrei in 2015 la bugetul britanic a fost de 34 de miliarde lire sterline.
Populatia Londrei care a votat sa ramana in Uniunea Europeana impreuna cu Scotia, Irlanda de nord si Gibraltar, au sa fie scoase din UE cu forta datorita fanaticilor care ignora economia prin a striga: nu avem nevoie de un comert liber cu Uniunea Europeana si ca Organizatia Mondiala a Comertului este indeajuns de buna pentru comertul britanic cu UE.
Ce majoritatea celor care vor ca UK sa paraseasca UE la orice pret nu stiu sau pretind ca nu stiu, este faptul ca Organizatia Mondiala a Comertului nu acopera servicile financiare.
Xenophobia si frica de imigrantii din Polonia si Romania si in special a refugiatilor mulsumani din Orientul Mijlociu (o zona destabilizata de catre interventia militara condusa de catre SUA si UK – (citeste si Influenta politica a mass mediei Britanice) a paralizat pragmatismul natural al englezilor.
Boris Johnson explaining Brexit to the "Remoaners"