Printr-un gest mai mult de contabilitate decat umanitar, guvernul britanic a anuntat ca ofera amnistie imigrantilor ilegali care locuiau in turnul bloc unde au ars de vii peste 87 de victime si le este frica sa contacteze autoritatile. Blocul era folosit ca locuinte sociale si era locuit in majoritate de imigranti straini.
Grenfell Tower inca domina zona Kensington, una dintre cele mai bogate zone din Londra ca un mormant in cer iar cadavrele victimilor nici acum nu sunt recuperate complet.
Autoritatile nu stiu precis cate victime au murit in cel mai mare incendiu pe timp de pace din Marea Britanie.
Brandon Lewis, ministrul imigratiei a facut anuntul prin care ofera 12 luni de sedere legala in Marea Britanie :
The government has been clear that its priority is to ensure that victims of this tragedy get the access they need to vital services, irrespective of immigration status. The Home Office will not conduct immigration checks on survivors and those coming forward to provide information to assist the authorities in their enquiries. However, we recognise that some foreign nationals directly affected by the fire may not wish to engage with the authorities due to concerns about their unresolved immigration status, or if their status is about to expire. I am therefore announcing today that those individuals directly affected by the Grenfell Tower fire who contact the Home Office via a specified process will be given a period of limited leave to remain in the UK with full access to relevant support and assistance. This will be done by using discretionary powers to grant leave to remain outside the immigration rules for a temporary period of 12 months and without a condition precluding recourse to public funds. I will place a copy of the policy document in the House Library.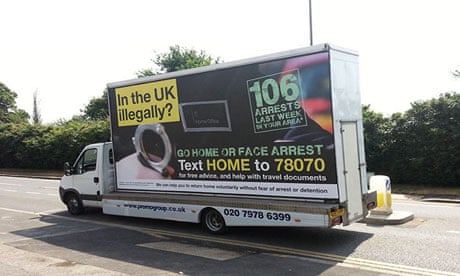 Guvernul care se afla la putere, Conservative Party, in urma cu cativa ani au pus reclame pe strazile Londrei prin care indemna imigrantii ilegali sa plece de buna voie sau au sa fie arestati si deportati.