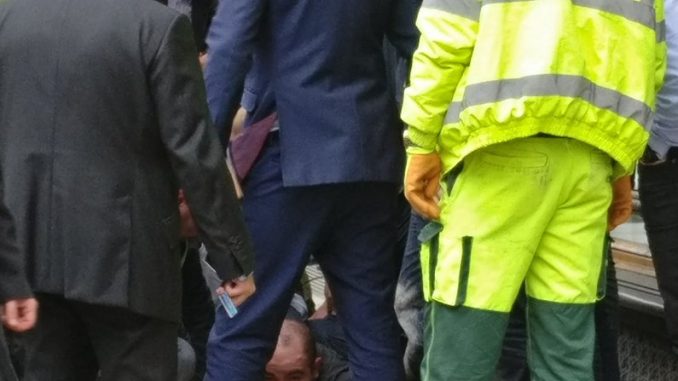 The incident took place in Central London on 10th October when a gang of six people riding mopeds tried to break into a luxury watch shop situated on Avery Row near Bond Street around 11 AM.
According to James Strouts, head of security at Watchfinder & Co, they were armed with hammers, sledge hammers, axes and pickaxes.
While trying to smash their way into the shop they were surrounded by a group of builders and restaurant workers in a matter of minutes.
Since then ,a video of the attempted robbery has surfaced on social media filmed by a Romanian builder ,suggesting that two other Romanian builders performed a citizen arrest.
When the police arrived ,one of the gang members was lying on the floor with his hands tied up with cable ties used by electricians to fasten electrical cables and by the police alike as a form of physical restrain.
The London Met said in a statement: "Police in Westminster were called at around 11.13hrs on Tuesday 10 October following reports of a smash and grab raid at a watch store in Avery Row. At this early stage officers believe there were five suspects riding three mopeds, armed with a sledgehammer. All had helmets and balaclavas on.
"The men were seen to make an attempt to break the glass frontage of the shop but failed to do so. As they fled the scene, one of the men fell off his moped and was detained by a member of the public for a short time until officers arrived at the location. "This man was arrested and taken to a Central London police station where he currently remains in custody. The moped he was riding on was seized by police."
Not long ago, a similar case happened when a Romanian builder using a shovel saved an elderly couple from being robbed in the South of London.