Ministrii de afaceri externe din Uniunea Europeana s-au angajat să protejeze firmele europene împotriva impactului sancțiunilor impuse de SUA pentru a face afaceri cu Iranul.
Un "statut de blocare" al UE va intra în vigoare marți pentru a anula acțiunea juridică a SUA împotriva firmelor europene în legătură cu Iranul. Unele sancțiuni din partea SUA asupra Iranului urmează să fie reimpuse mai târziu luni.
În mai, președintele Donald Trump a retras SUA de la o înțelegere internațională din 2015 pentru a controla ambițiile nucleare ale Iranului. În cadrul acestei înțelegeri, sancțiunile occidentale legate de Iran au fost ridicate.
Trump susține că acordul nu va împiedica Iranul să găsească modalități de a dezvolta arme nucleare. Iranul a insistat întotdeauna că cercetarea sa nucleară este strict pentru scopuri civile.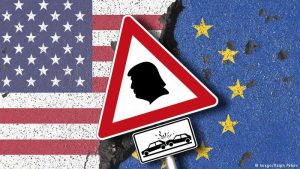 O declarație comună a șefului politicii externe a UE, Federica Mogherini și a miniștrilor de externe ai Franței, Germaniei și Regatului Unit spune că acordul nuclear , sau Planul comun de acțiune comun (JCPOA) – este "crucial" pentru securitatea globală.
"Suntem hotărâți să protejăm operatorii economici europeni angajați în afaceri legitime cu Iranul, în conformitate cu legislația UE și cu Rezoluția 2231 a Consiliului de Securitate al ONU", se arată în declarație.
"Acesta este motivul pentru care Statutul de blocare actualizat al Uniunii Europene intră în vigoare la 7 august pentru a proteja companiile din UE care fac afaceri legitime cu Iranul de impactul sancțiunilor extra-teritoriale ale SUA".
Ei spun că "se așteaptă ca Iranul să își pună pe deplin angajamentele nucleare în cadrul JCPOA".
Iranul a acceptat să-și limiteze programul de îmbogățire a uraniului în schimbul ridicării sancțiunilor occidentale îngrozitoare.
Care este statutul de blocare actualizat?
Aceasta va permite firmelor din UE să recupereze daunele rezultate din sancțiunile aplicate de SUA. De asemenea, va interzice întreprinderilor si firmelor din UE să respecte sancțiunile aplicate de SUA, cu excepția cazului în care primesc o autorizație excepțională din partea Comisiei Europene.
Statutul actual de blocare este datat din 1996 și aplicat la sancțiunilor SUA asupra Cubei. Versiunea actualizată referitoare la sancțiunile SUA asupra Iranului va fi publicată marți și va intra în vigoare imediat.
Declarația UE îi obligă pe ceilalți semnatari ai JCPOA să "mențină canale financiare eficiente cu Iranul și să continue exportul Iranului de petrol și gaze".

Joint statement by High Representative Federica Mogherini and Foreign Ministers of E3 (Jean-Yves Le Drian of France, Heiko Maas of Germany, Jeremy Hunt of the United Kingdom) on the re-imposition of US sanctions due to its withdrawal from the Joint Comprehensive Plan of Action (JCPOA)
We deeply regret the re-imposition of sanctions by the US, due to the latter's withdrawal from the Joint Comprehensive Plan of Action (JCPOA).
The JCPOA is working and delivering on its goal, namely to ensure that the Iranian programme remains exclusively peaceful, as confirmed by the International Atomic Energy Agency (IAEA) in 11 consecutive reports. It is a key element of the global nuclear non-proliferation architecture, crucial for the security of Europe, the region, and the entire world. We expect Iran to continue to fully implement all its nuclear commitments under the JCPOA.
The lifting of nuclear-related sanctions is an essential part of the deal – it aims at having a positive impact not only on trade and economic relations with Iran, but most importantly on the lives of the Iranian people. We are determined to protect European economic operators engaged in legitimate business with Iran, in accordance with EU law and with UN Security Council resolution 2231. This is why the European Union's updated Blocking Statute enters into force on 7 August to protect EU companies doing legitimate business with Iran from the impact of US extra-territorial sanctions.
The remaining parties to the JCPOA have committed to work on, inter alia, the preservation and maintenance of effective financial channels with Iran, and the continuation of Iran's export of oil and gas. On these, as on other topics, our work continues, including with third countries interested in supporting the JCPOA and maintaining economic relations with Iran. These efforts will be intensified and reviewed at Ministerial level in the coming weeks.
Preserving the nuclear deal with Iran is a matter of respecting international agreements and a matter of international security.
https://eeas.europa.eu/headquarters/headquarters-homepage/49141/joint-statement-re-imposition-us-sanctions-due-its-withdrawal-joint-comprehensive-plan-action_en