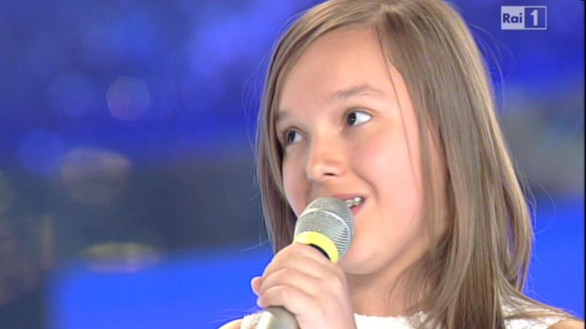 Madalina Lefter, the 13 years old Romanian girl from Iasi – Moldova, can sing her way out from obscurity that entraps most wanna be singers. At a time when the world entertainment is overrun with overrated Pop Idols and Talent Shows, Madalina Lefter has passed the five minutes celebrity fame test.
With a stone cold gaze in her eyes and extreme focus, she can easily be mistaken for Arnold Schwarzenegger. Singing in more than two languages, it can be safe to say that she is well suited for multitasking, particularly in Italy.
Rendering old songs better than the originals, denotes lack of respect for the establishment. Madalina Lefter is The Terminator in the world of Reality TV, armed with a microphone and a pink dress, she takes no prisoners and the audience has no choice but to surrender.
Clapping and standing up has replaced the old and out of fashion white flag.
Fortunately enough her voice makes more fans than victims, but it makes you wonder what diet is she on.
Musical notes doused in petrol for breakfast and steroids for dinner ? And there is also the question – Olivia Newton John sings with Madalina Lefter or is it the other way around ?
Time will tell. She won't be back , she is already here.