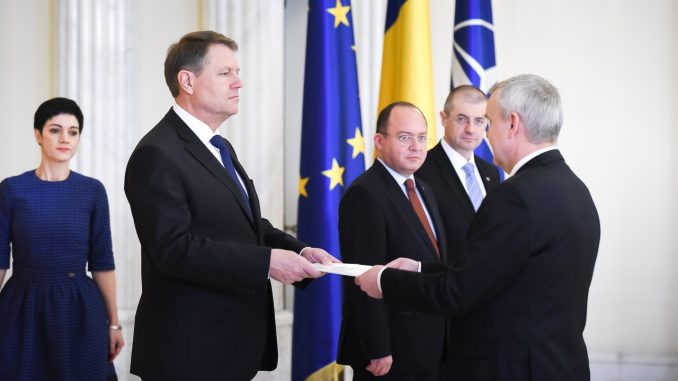 E un puzzle si contine greseli. Ajuta daca poti, avem un scheleton istoric oferit de catre Wikipedia. Romania nu a publicat o lista cu ambasadorii trimisi la Londra, dar ii putem afla impreuna.
Posteaza la mesaje sau trimite email. Nu trimite informatii care nu pot fi verificate.
Consul-General to Wallachia and Moldavia
1813–1826?: William Wilkinson (de la compania Levant Company) A scris o carte despre principatele Țărilor Românești și Moldovei in 1820, una dintre cărțile care l-a inspirat pe scriitorul irlandez Bram Stoker sa scrie Dracula. Numele românesc Dracula a fost luat de la el.
1826–1834: E.L. Blutte
1834–1858: Robert G. Colquhoun
1859–1874: John Green
1874–1876: Hon. Hussey Vivian
1876–1878: Charles Mansfield
1860 Vasile Alecsandri
Envoy Extraordinary and Minister Plenipotentiary
1880–1886: Sir William White – Nicolae Callimachi-Catargiu
1887–1892: Sir Frank Lascelles
1892–1894: Sir John Walsham, 2nd Baronet
1894–1897: Sir Hugh Wyndham
1897–1905: John Kennedy
1906–1910: Conyngham Greene
1911–1912: Walter Townley
1912–1920: Sir George Barclay
1920–1926: Sir Herbert Dering
1926–1929: Robert Greg
1929–1935: Michael Palairet
1935–1941: Sir Reginald Hoare
1940 – Atasat cultural la Regatul Unit devine Mircea Eliade,care crede in rasismul promovat de catre Germania nazista si Hitler.
1941–1946: No representation due to World War II – Romania si Anglia se afla in tabere opuse
1947–1948: Adrian Holman
1949–1951: Walter Roberts
1951–1954: William Sullivan
1954–1956: Dermot MacDermot
1956–1959: Alan Dudley
1959–1961: David Scott Fox
1961–1963: Dalton Murray
Ambassador Extraordinary and Plenipotentiary
1963–1965: Dalton Murray
1965–1967: Leslie Glass
1967–1968: Sir John Chadwick
1969–1971: Denis Laskey
1972–1975: Derick Ashe
1975–1977: Jeffrey Petersen
1977–1979: Reginald Secondé
1980–1983: Paul Holmer
1983–1986: Philip McKearney
1986–1989: Hugh Arbuthnott
1989–1992: Michael Atkinson
1992–1996: Andrew Bache
1996–2000: Christopher Crabbie
2000–2002: Richard Ralph
2002–2006: Quinton Quayle – Ion Jinga
2006–2010: Robin Barnett – Ion Jinga
2010–2014: Martin Harris – Ion Jinga

2014–present: Paul Brummell – Dan Mihalache