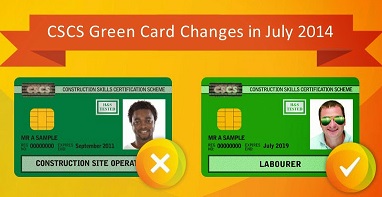 Incepand de pe data de 1 Iulie, Cardul Verde, Construction Site Operative (CSO) nu mai sunt eleberate. In locul lor se va emite un nou card verde CSCS disponibil pentru toti cei care au statutul de muncitor necalificat (labouring) pe santierele de constructii din Marea Britanie.
Cei care intenţionează să lucreze ca muncitori necalificați pe şantier pot aplica pentru noul card CSCS verde doar după ce deţin anumite documente. Astfel, aceștia vor trebui să furnizeze dovezi că au urmat unul dintre următoarele cursuri: QCF / SCQF Level 1 Award Health and Safety in a Construction Environment (Cunoştinţe de sănătate și de siguranță într-un mediu de construcţii) sau cursul de o zi One day Site Safety Plus Health and Safety Awareness.
De asemenea, muncitorii trebuie să treacă testul de Protecţia Muncii (CITB Operatives Health, Safety and Environment Test) în termen de doi ani înainte de a aplica pentru un nou card.
CSCS – Construction Skills Certification Scheme – este un card care atestă pregătirea unei persoane în Health and Safety (Protecţia Muncii) în UK. Toţi lucrătorii în construcţii sau industrii adiacente şi mai ales cei care lucrează pe un şantier trebuie să aibe CSCS card.