Who would you rather have as your neighbour? The "low skilled immigrant" Romanian Florin or Farage, if confronted by a terrorist?
Click Romania has started a petition online to get Farage deported to Romania.
Sign the petition Deport Nigel Farage to Romania
Compare the actions of the Romanian baker and Nigel Farage. The Romanian baker faced with knife wielding attacker, fights him off with two plastic bread trays. Nigel Farage faced with a street theatre group escaped in his car, leaving his children behind.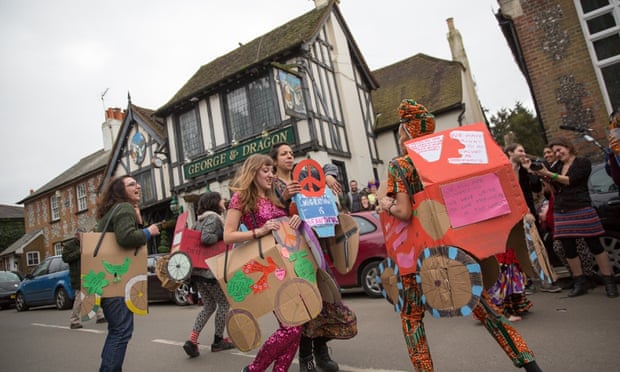 Protesters outside the George and Dragon in Downe, Kent. Photograph: Mike Kear
Anti-Ukip protesters in fancy dress forced Nigel Farage to flee his local pub..the Ukip leader, who is thought to have left in a car driven by his wife, said that a relative had returned to the pub and his children were later found safe.